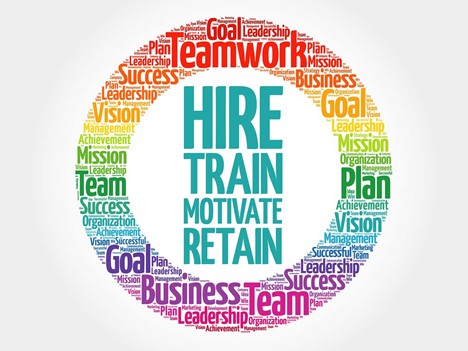 I chose employee retention as October's theme because study after study shows that top performing employees contribute significantly more than their counterparts to the company's productivity and profitability. Furthermore, investment in the right people maximizes your business's performance. Here's a summary of the topics we'll cover this month:
Without knowing what qualities to look for in employees, companies often default to directing their retention efforts at high-performers. While this approach is a logical step to preserve short-term performance, it fails to consider the internal needs of the company and the employees themselves.
On a base level, employees in retention programs should show capability, potential, intellect, and aspiration. To further take advantage of your retention efforts, it is important to assess the future needs of your business as well.
Retention Pitfalls (Part 1 & 2)
A well-developed program is an excellent tool to increase retention of your high performers. Unfortunately, the effectiveness of such programs can vary. Therefore, to increase your chances of success, start by protecting against these common pitfalls:
Assuming Your High Performers Are Engaged
Just because an employee is in a retention program, doesn't guarantee they're engaged in their work. Develop a mechanism to monitor engagement levels. This allows you to address issues before it's too late and they have "checked out".
Assuming Current Performance Ensures Future Capability
As I mentioned, high-performing employees are commonly referred to retention programs. However, current performance is not always indicative of future capability. Moreover, it reveals nothing about aspiration. It is very possible that your best performing sales associate has no interest in managing a sales team or acquiring other skills that may be needed for a future leadership position.
Delegating the High Performers' Development Downward
Giving managers and individual business units this sole responsibility can greatly decrease the scope of the high performer's development. Consider this scenario, after 10 months of workforce uncertainty and productivity issues, a high performer was added to a team. Consequently, the team now performs above and beyond expectations. Will your managers easily allow the high "potential" to make a lateral move to increase their skills?
Protecting High Performers From Failure
Naturally, after large investments of time and energy into a high performer, you want to protect them and see them succeed. However, if you don't let these employees experience difficult and stressful scenarios, you're robbing them of learning experiences. It's in these difficult and trying situations where high performers develop experience and skills critical for future success.
Expecting They'll Accept Across the Board Measures
The high potential distinction is given to employees who go beyond their duties or contain desirable skills or characteristics. Consequently, they know they're a valued part of your business and expect appropriate compensation. If a turbulent business environment requires pay adjustments, don't completely abandon all merit-based compensation. Doing so can cause your high performers to look for employment elsewhere.
Keeping Them in The Dark
High pos who've advanced to high levels of a development program expect high levels of engagement. As integral parts of the company's future, they are valuable assets in strategic discussions and can even help create new strategies for your business. Any reduction in communication from leadership can easily cause them to feel less valued and lead to disengagement.
Typically, managers are the ones who identify high potential employees. However, without sound selection processes, they'll rely heavily on instincts and observation. In addition to this, managers should have proper training in high performer identification techniques, such as utilization of assessments, behavioral interviewing techniques, or stretch goal setting. Leaders can look for important indicators of retention such as employees' capability, potential, intellect, emotional intelligence and career aspiration.
How to Keep Your High Performers
When it comes to retention, your company's culture as well as the retention program experience, are most important. Use exit interviews to know why employees leave and ensure your business has a strong value proposition. Additionally, offer a fulfilling retention program experience by tailoring it to the employee. Is the high po on a general management track or a specialist track? Those tracks are different and should address different needs. Ensure your program delivers rich development opportunities and avoid a one-size-fits-all retention program.
Your managers play an important role in setting the work environment. Conduct a thorough review of your management to ensure you have the right people in the right roles. Creating a culture where your high potentials can flourish may require some culture shifts within your organization. Additionally, developing a mentoring program is an excellent way to keep them engaged as well as transfer of knowledge, promotion of trusting relationships and increased insight into the business for management.
For high performers to fulfill their career goals, they need growth and development. It's not realistic to offer all them pay increases and promotions, so there is a need for alternative methods. Subsidizing education, offering mentorship opportunities, implementing a job rotation/skill growth scheme, and exploring passion and creativity are all fantastic ways to promote the growth and development of your high potential employees.
For your business to operate at its best, you need to keep your best people. Employee retention is a challenge for most businesses, but with the information outlined above, it can be easier to navigate. If you'd like to discuss how best to approach employee retention in your business, contact me.