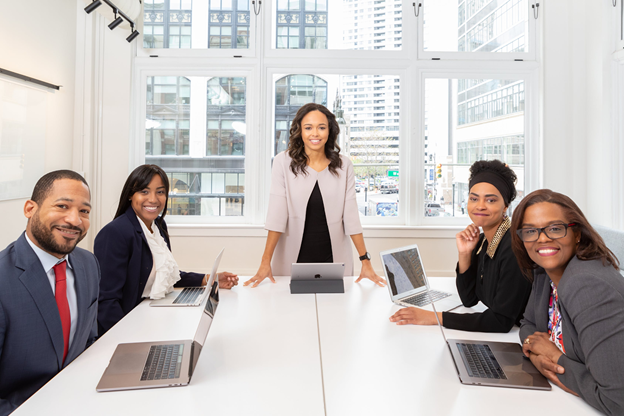 Guest Blog Article – Marissa Perez Image via Pexels
While starting a business can be relatively straightforward, learning to be a great business leader is more nuanced and challenging. It is possible to learn on the job, but mistakes can be costly. It's a great idea to sharpen your business skills by getting a degree, if you don't already have one; if you're just starting out you'll be hable to hit the ground running, and if you've already been in business a while, you'll significantly improve your operations by obtaining further education.
Do you need help maximizing your leadership potential? Work with Martha Forlines for transformative leadership coaching! Request a complimentary assessment!
Qualities of a successful business leader
Even if you run a small company with few or no employees, it's still important to strive for strong business leadership skills. There are certain qualities that make a great leader, many of which are soft skills: self-awareness, decisiveness, and fairness are three that can help you excel as a business owner.
To succeed in your business, it's a good idea to understand your strengths and weaknesses. This self-awareness will help you determine areas of your business where you need help. For example, you might be incredibly savvy with sales and marketing, while accounting is beyond you. It's vital to know when you need to outsource for help to run your business smoothly.
Company owners will often need to make tough choices, which is why decisiveness is a key skill for leaders in business. If you have a team, the ability to make quick decisions is even more important, as your staff will be looking to you for support and guidance. This can be hard for perfectionists, but sometimes "good enough" is better than perfect.
When you're managing a team, fairness is a crucial skill to gain trust and respect. Fairness comes in many forms: valuing your employees fairly regardless of gender or ethnicity, ensuring equal pay for equal work, and handling conflicts fairly between employees. Being fair can be tough, but it's vital to ensure a positive working environment and to help bolster morale.
Communication skills
One way to help boost your leadership is by working on your communication skills. Good communication is challenging in today's business world, as it happens concurrently on many channels all at once. Small business owners today are expected to answer emails, phone calls, and text messages in a timely fashion, while at the same time crafting clever messages for social media.
While you might not have time to do everything perfectly, focus on areas where you could do better. For example, if you prefer to hash out ideas on the phone rather than email, communicate that to your clients and colleagues so they aren't left wondering why you haven't responded. Or, if you struggle with answering questions after-hours, set boundaries around your business hours to set reasonable expectations.
Whatever your preferred method of communication is, make sure that you're working with a reliable and fast network. 5G internet offers ultra-fast service with minimal lag, ensuring you can respond promptly to customers whether you're in the office or at home.
Learning hard skills to excel
Soft skills can often be learned through experience, but it's helpful to learn the hard skills of business through higher education.
It's not required to attend business school to start a business, but it certainly helps to learn valuable skills. Even if you're already running a business, it's useful to go back to school to sharpen your skills. You can earn a degree online while running your business, so it doesn't have to dramatically disrupt your life. It's possible to learn business management, management and leadership, and marketing—all online.
Becoming a great business leader takes time, and usually, a few mistakes, to get it right. While some skills will come with experience, other skills can be gained through further education at a business school. Even if you're already running your business, consider taking online classes to help you improve your business acumen and become a better leader.